International Week about Inclusive Mobility
Artevelde University of Applied Sciences – Ghent 14-18 March 2022
Giulia Grillo Mikrut, Student Support Office
Monday, 14 March 2022
Today I left Flemingsberg for Bromma airport in the late afternoon. My final destination was Ghent in Belgium. Very easy to get to Bromma airport nowadays: just catch the commuter train to Årstaberg and change to the tram line to Bromma airport. In less than one hour I was there. I had my big poster for my poster presentation with me.
Traveling to Ghent from Brussels is very simple: right by Zaventem airport you can catch first a train to Brussels Midi (approximately 20 minutes) and then you change to another train to Ghent Sint Pieters (another 25 minutes). The cost of the ticket is 16 Euros.
I arrived very late in Ghent but there was a bus that arrived within 10 minutes, and I reached my hotel very quickly. Ghent seems a really cozy city even at night! I can't wait to see it in daytime!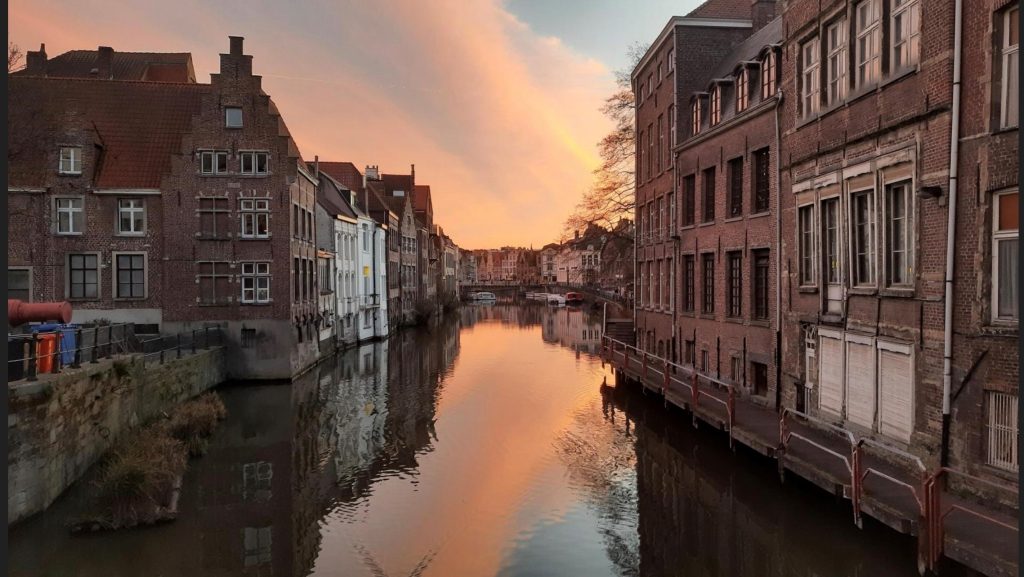 Tuesday 15 March 2022
Today the international week is starting and the program is really intense. Can't wait to meet the other participants! But first some breakfast!
After registration we are going to hang up our posters and they have given us time to both stay by our posters to present our work and to go around and explore the other participants' posters.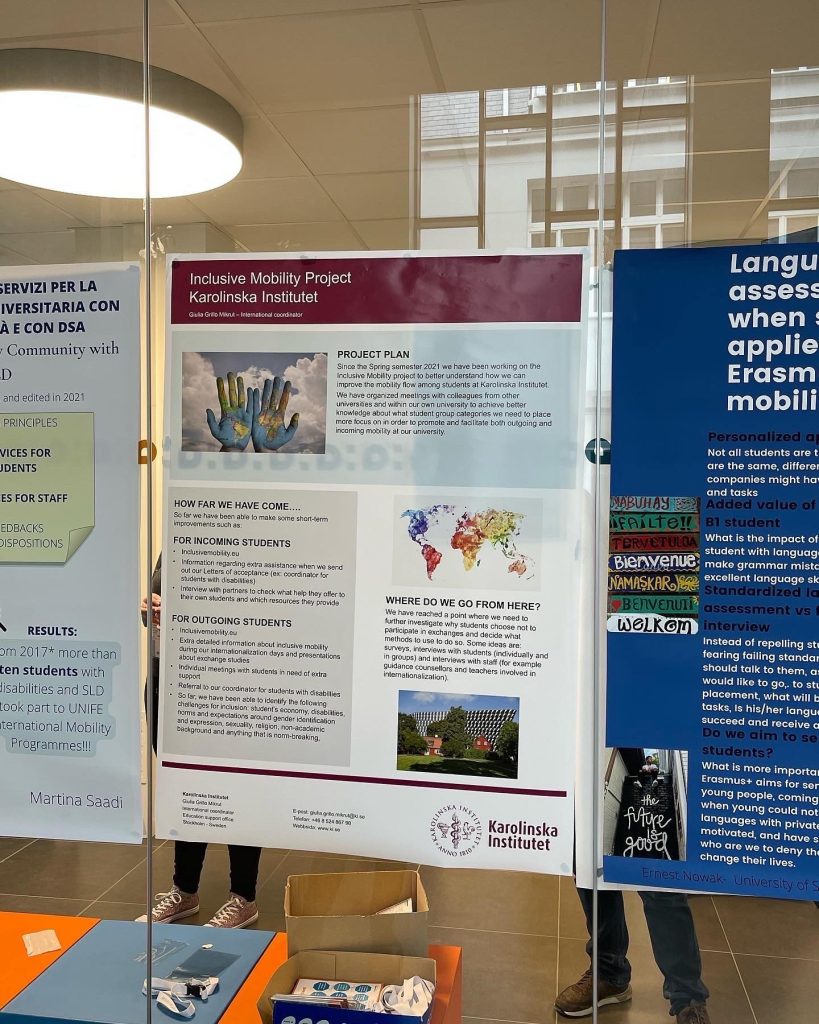 Valérie Van Hees from the Support Centre Inclusive Higher Education (SIHO) had a presentation about: Making Mobility Programmes More Inclusive: Key Criteria.
In the evening we were invited to City Hall where the Deputy Mayor welcomed us and gave a very inspiring speech about the importance of inclusion not only in society but also in education.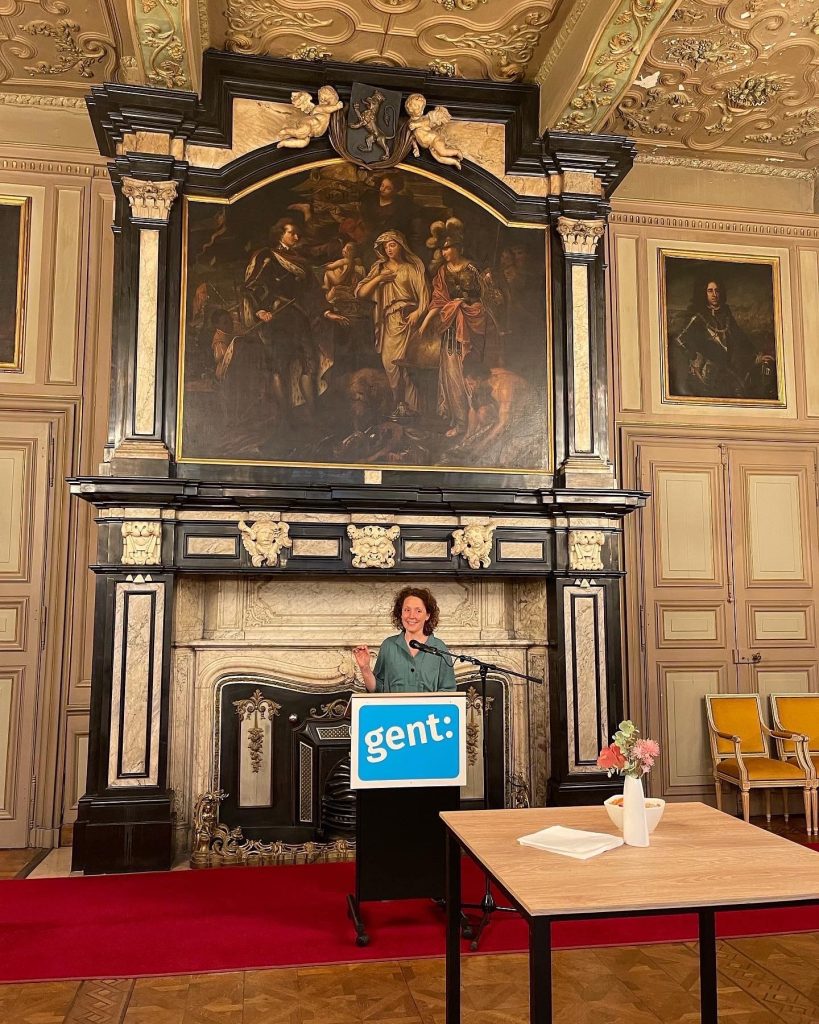 In the evening we had some authentic Belgian food based on beer.
Wednesday 16 March 2022
Today we have worked in smaller groups. We have identified issues related to mobility inclusion and how we handle these issues in our universities.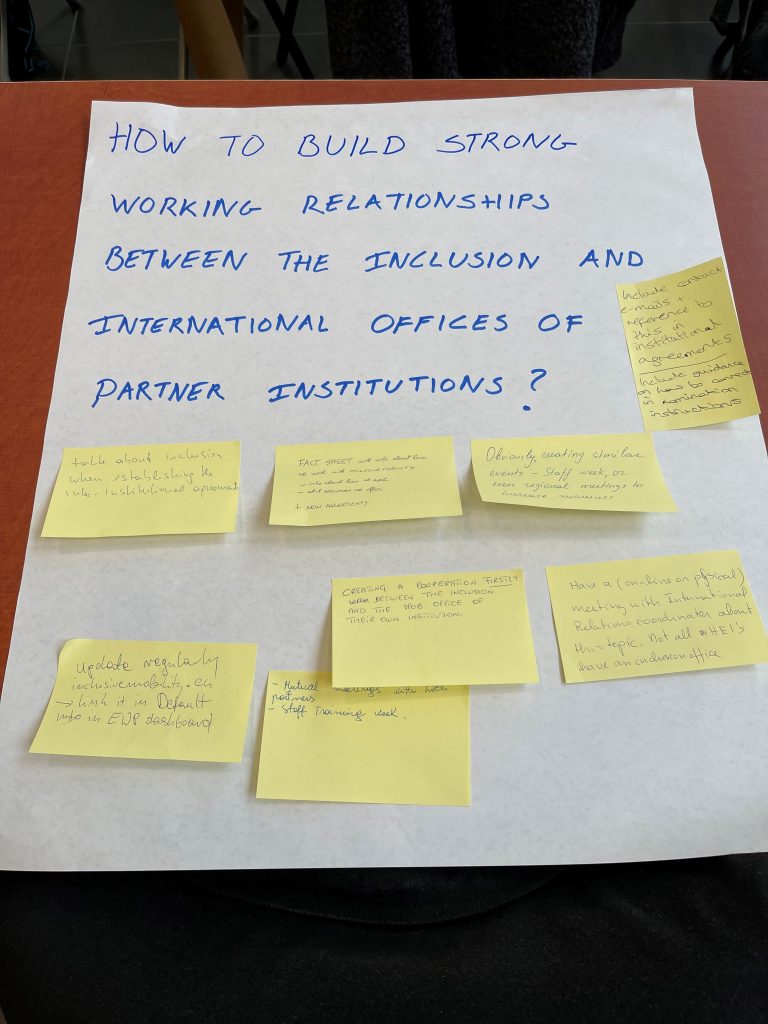 We have also been doing self-assessment in regard to how each university that was present at the international week works with inclusive mobility. The self-assessment exercise can be found on inclusivemobility.eu
The days at this international week are very long (but fun) so I haven't been able to see much of Ghent yet. The buildings are however very pretty. After dinner I took a long walk back to the hotel and passed some iconic places here in Ghent. Almost everyone moves around by bike! Bikes are everywhere….
Thursday 17 March 2022
In the morning we listened to two different presentations: Inclusion Strategies across Europe and Flemish Inclusion Strategies with Higher Education. Today we were at the university only until 2pm. Thereafter they had organized a social afternoon. We started off with a sightseeing boat tour. And then ended our social afternoon with us all going bowling….. It's been really nice to get to know the other participants better during these two social activities. When we were done bowling we all realized we had loads of mails to catch up so we decided to see each other the next day.
Day 4: Friday 18 March
Last day of this international week. Got my "usual" breakfast at the bakery around the corner from the university. Today we had several different study groups. We engaged in thematic peer groups about inclusion and also wrapped up our newly acquired knowledge about inclusive mobility by assessing student cases first in smaller groups and then all together. This international week has been extremely important for my continued work with inclusive mobility here at Karolinska Institutet. Can't wait to share all I've learned and all my new ideas with my colleagues at KI!
It's farewell for this time, Ghent! But I will certainly be back!